Highlights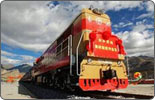 Container freight transportation was added to Qinghai-Tibet Railway on July 1, 2007, the one year inauguration anniversary of the world´s highest railway.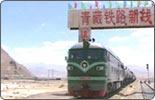 The 1st direct passenger train from Beijing has arrived in Lhasa, the capital of the Tibet Autonomous Region. The inaugural train, carrying some 800 passengers, arrived at Lhasa Railway Station at 8:55 p.m. on July 3, 2006.
---
Headlines

More articles
Qinghai-Tibet railway
About Qinghai-Tibet Railway

The Qinghai-Tibet railway which will undergo trial operations on July 1 will not only link Tibet with other parts of China but also boost border trade on this plateau, local government sources said Wednesday.
---

In 1984, Xining-Golmud section begins operation.
---

The new Qinghai-Tibet Railway line the highest on earth will endure the harsh conditions along the "Roof of the World" thanks to new technology and constant monitoring.
---

Sleeping on a train´s hard berth from Beijing to Tibet may cost you less than US$100 in the near future, only one-third of a one-way air ticket at present.
---

According to Liao Lisheng, head of the Tibetan tourism bureau, the number of tourists in Tibet will be increased to 5,000 to 6,000 every day after the railway opens to passengers.
---

The ticket for Qinghai-Tibet Railway has been confirmed, sources from the 8th conference of the leading group for Qinghai-Tibet Railway construction.
---