Source: China Daily
08-19-2006 15:20
In the Dongguan Mosque of Xining city, chinadaily.com.cn reporter met Ma Manai, a Muslim of Dongxing minority who was attending religious service. In the past 4 years, he had led a construction team of 200 people working in every section of Qinghai-Tibet Railway.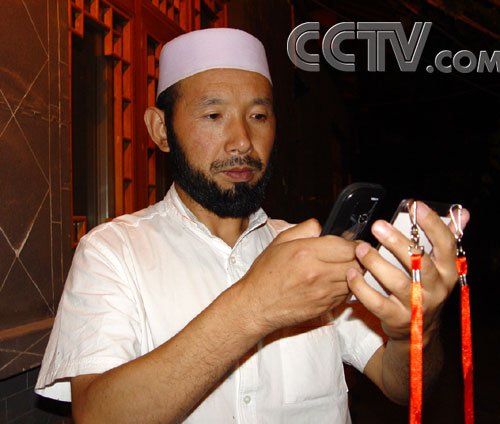 Ma Manai was taking pictures of repoter's ID card with his cellphone.[cctv.com photo]
Ma Manai is a pious Muslim from Gansu province, who will go to the mosque to attend religious service and study classics every day. In the past 4 years, he has been participating in the construction on the site of Qinghai-Tibet Railway, and many projects are carried out in March and April, the coldest season on Tibet Plateau. Working against wind and in snowstorm is the common occurrence on the plateau. But when being asked if he has altitude reaction, he replied with ease: "I have got used to it, since I was born in Gansu, and live in Qinghai for all time of my life." He does not regard seriously plateau anoxia, at the mention of which people from inland will turn pale.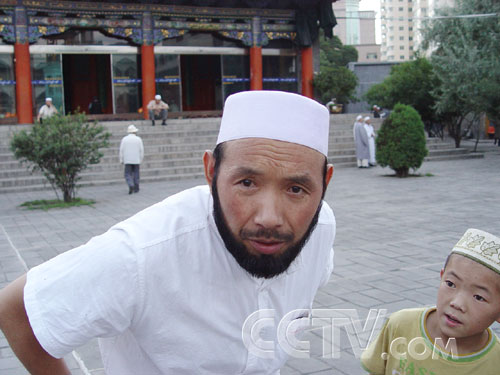 Ma Manai was curious about repoter's camera.[cctv.com photo]
According to Ma Manai, there are 4-6 big oxygen bottles granted by the project leading department in each work shed, and special person will take care of workers' health and medication every day. The logistic is well done, so the workers will not be periled even if they have plateau reaction.
A span of 4 years is not a short time. Each year he would spend a half on the Qingzang line far away from home. Recalling his life and work in the 4 years, the 40-year-old Ma Manai is as excited as a child. He regards it a happy experience to participate in such a project and work on the highest railway construction site on the world. It is the happiest thing for him to contribute something to his hometown and homeland. He said: "During my work, I always had contact with local Tibetan people, and it is my happiest moment to see them being so happy for having a railway in their hometown. Even though there are bitterness and tiredness, I cannot feel them."

The Qinghai-Tibet railway is 1,956 kilometers long, with 960 km of the track located 4,000 meters above the sea level and the highest point at 5,072 meters. It stretches from Xining, capital of Qinghai Province, to Lhasa.
The railway is the world's highest and longest plateau railroad and also the first railway connecting the Tibet Autonomous Region with the rest of China.
By Zhang Nan (chinadaily.com.cn)

Editor:Wang