Source: China Daily
08-17-2006 10:26
Li Yang, a dispatcher from the Qinghai-Tibet Railway Dispatch and Command Center, spends at least 12 hours a day at work.
"After the Qinghai-Tibet Railway launched July 1, I've gotten used to such a busy life," he told chinadaily.com.cn in an interview conducted on August 2. "I receive about 1,000 dispatch telephone calls from train drivers every day."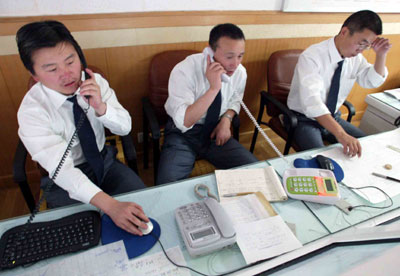 Qinghai-Tibet Railway dispatchers are receiving calls from train drivers. From left to right: Li Yang, Yang Baizong and Xia Shengyan. [chinadaily.com.cn]


As the Qinghai-Tibet Railway opens to traffic, the Dispatch and Command Center located in Xining City, Qinghai Province, has become the heart of the railway, and work there is calm but tense, busy but orderly.

Li Yang, Xia Shengyan and Yang Baizong are on the same dispatch team. They say after the Golmud-Lhasa section of the Qinghai-Tibet Railway opened on July 1, the dispatch office has been extremely busy. They work in three shifts, 12 hours per shift. During the course of interview, they would receive one call every few minutes from train conductors on the Qinghai-Tibet line. According to Li, every day they field at least 1,000 calls asking for information on station entry, leaving, parking, departing and a host of other things.

Six passenger trains and two cargo trains run the new railway daily. Since there has been no labor increase in the command and dispatch office, the current employees have to work hard under a great deal of pressure to ensure that everything goes well. "This work requires a great sense of responsibility, and that's my job," said Li.

"I have not had the chance to take the train on the Qinghai-Tibet Railway yet, but the opportunity will definitely come," he added.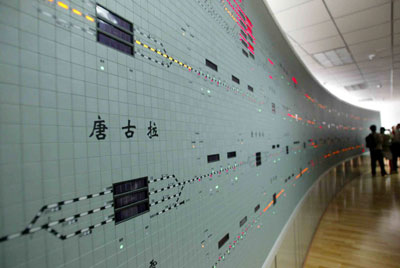 The Dispatching and Commanding Board of Qinghai-Tibet Railway. [chinadaily.com.cn/Xiao Huaiyuan]


The Qinghai-Tibet Railway is 1,956 kilometers long, with 960 km of the track located 4,000 meters above sea level and the highest point at 5,072 meters. It stretches from Xining, the capital of Qinghai Province, to Lhasa, in the Tibet Autonomous Region (TAR).

The railway is the world's highest and longest plateau railroad and also the first railway connecting the (TAR) with the rest of China.

By Zhang Nan (chinadaily.com.cn)


Editor:Wang