China
Vice premier calls for improved management of Qinghai-Tibet railway
Source: Xinhuanet | 07-09-2007 09:30
Special Report: Qinghai-Tibet Railway

<!a href=# target=_blank>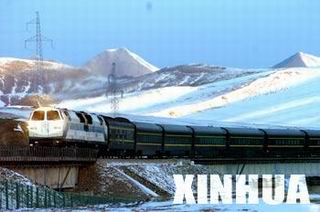 <!a href=# target=_blank>
A train roars on the Qinghai-Tibet Railway at the Kunlun Mountains area in Qinghai, Nov. 25, 2006. (Xinhua Photo)
BEIJING, July 8 (Xinhua) -- Chinese Vice Premier Zeng Peiyan said the management of the Qinghai-Tibet railway should be further improved to ensure safe operation and better environmental protection.
Zeng made the remarks at the 10th meeting of the Qinghai-Tibet railway construction group held on July 7 and 8, on which the project of the Golmud-Lhasa section passed national acceptance review.
The railway stretches 1,956 kilometers from Xining, capital of Qinghai, to Lhasa, capital of Tibet, with the project of the 1,142-kilometer Golmud-Lhasa section being built from 2001 to 2006. The Xining-Golmud section was completed in 1984.
Since going into operation in July 2006, the railway had carried 2.6 million passengers and 13 million tons of cargo, going through the test of seasonal changes without serious accidents, said Zeng.
Managing the railway is "more difficult and arduous" than building it, said Zeng, adding that railway departments should improve their services and transportation efficiency.
Safety measures and environmental protection work must be strengthened along the railway.
The opening of the railway should be considered as a rare opportunity for social and economic development of Qinghai province and Tibet Autonomous Region, said Zeng.
Every day, a total of eight passenger trains and two cargo trains run in both directions on the railway, with 960 kilometers of the track being 4,000 meters above sea level and 550 kilometers running over unstable permafrost which is prone to heaving.
Temperatures high up on the Qinghai-Tibet plateau can drop to minus 45 degrees in the winter.
Editor:Du Xiaodan