China
Qinghai-Tibet Railway meets national standards
Source: CCTV.com | 07-09-2007 15:20
Special Report: Qinghai-Tibet Railway

<!a href=# target=_blank>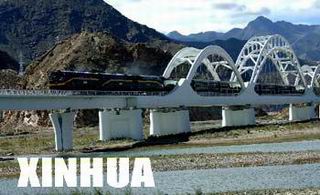 <!a href=# target=_blank>
Vice Premier Zeng Peiyan has finished an investigation into the construction and operation of the Qinghai-Tibet Railway.
He's also has presided over a meeting to decide whether the railway meets national standards.
Zeng said that the railway does meet the standards, marking its entry to a new phase of operation. Zeng said a lot was learned from the construction, and that continuing efforts will help the railway achieve a world-class level.
He said the railway presents an opportunity to develop the economy of Tibet and Qinghai, and this must be seized.
Editor:Du Xiaodan