Source: China Daily
08-19-2006 15:16
How fast do the trains run on the Qinghai-Tibet Railway? Presently the maximum hourly speed is 100 km. However, this is not fast enough, according to Zhang Xiqing, Chief Dispatcher of the Qinghai-Tibet Railway Company located in Xinning, Qinghai Province.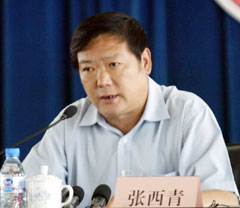 Zhang Xiqing, chief dispatcher of the Qinghai-Tibet Railway Company located in Xinning, Qinghai Province. [chinadaily.com.cn/Xiao Huaiyuan]
In an interview with chinadaily.com.cn on August 2, Zhang said the train's speed will be increased in the future.
Zhang said if the earth was more frozen and the temperature more stable, the train's speed can be pushed beyond 100 km.

If this were to happen, in case of emergency a rescue squad could arrive in around one hour, Zhang said.
Zhang said guaranteeing the trains running on time was an important task. Nowadays if a train is off-schedule by ten minutes or more, there will be an investigation, and if necessary, punishment. In recent weeks, the punctuality rate of passenger trains has been 100 percent.
Before the Qinghai-Tibet Railway opened, goods going to and from Tibet were trucked over mountain highways that were often blocked by landslides or snow, making trade prohibitively expensive. The Qinghai-Tibet Railway is the first railroad linking Tibet with the rest of China and there are six passenger trains and at least two cargo trains per day.
The railway is the world's longest plateau railroad, extending 1,956 kilometers from Qinghai's provincial capital Xining to Lhasa in Tibet. The newly completed Golmud-Lhasa section zigzags 1,142 kilometers across the Kunlun and Tanggula mountain ranges. About 29.46 billion yuan (US$3.68 billion) was spent on the Golmud-Lhasa section.
The basic coach ticket, called a hard seat, sells for 389 yuan (US$48.6) from Beijing to Lhasa, while the price for hard sleeper or bunk costs 813 yuan (US$101.6).
By Zhang Nan (chinadaily.com.cn)

Editor:Wang