China
Senior navy officer says China fleet review aimed to "promote understandings"
Source: Xinhua | 04-21-2009 08:11
Special Report: Chinese navy 60th anniversary

QINGDAO, April 20 (Xinhua) -- China's senior navy officer said here Monday that the international fleet review to be held in east port city Qingdao on Thursday is aimed at promoting understanding about China's military development.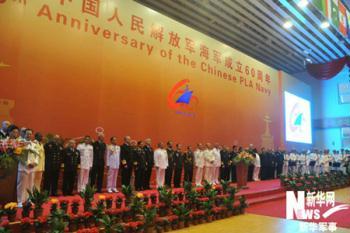 China's People's Liberation Army (PLA) kicks off a grand
maritime ceremony to mark the 60th anniversary of its navy
at 6 p.m. Monday off the coast of the eastern city of
Qingdao,China's Shandong Province, April 20, 2009.
(Xinhua/Li Xuanliang)
Ding Yiping, deputy commander of the Chinese People's Liberation Army (PLA) Navy, told Xinhua in an exclusive interview that the review would serve as a platform for navies from other countries to increase their understanding about China and the Chinese navy.