World
Rocket hits Israeli city
Source: CCTV.com | 02-04-2009 09:44
Special Report: Israel airstrikes in Gaza

Israel says a Grad rocket fired from Gaza has landed in the southern Israeli city of Ashkelon.
The short-range rocket attack came as a Hamas delegation discussed terms for a long-term truce with Israel through Egyptian mediators.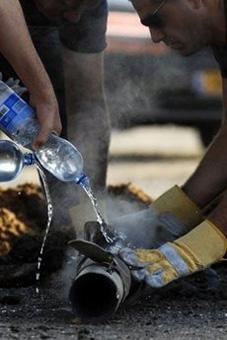 Israeli police sappers pour water to cool the
remains of a rocket launched by Palestinian
militants in the Gaza Strip that hit the
southern city of Ashkelon on February 3.
(AFP/David Buimovitch)
No one was injured in the rocket attack on Ashkelon, a city of 122,000.
It is the first such rocket to be fired at the city since two separate cease-fires were declared by Israel and Hamas two weeks ago. The ceasefires brought an end to Israel's bruising three-week-long offensive on Gaza.
The rocket has caused Israel to threaten a renewed offensive.
Mark Regev, Israeli Government Spokesman, said, "Hamas is playing with fire. And if there is an escalation now, Hamas will have none to blame but themselves."
Meanwhile, Israel's hard-line opposition leader, Benjamin Netanyahu, accused the ruling party of having failed to eliminate the threat of rocket fire from Gaza.
Netanyahu is seen as the front-runner for the upcoming general election and says he will bring down the Hamas government if he is elected prime minister.
Benjamin Netanyahu, Head of Likud Party, said, "The army did a great job. But the Kadima government stopped short of achieving the goal. There is only one thing that will remove the missile threat from Ashkelon and other cities and towns in Israel, and that's to bring down the Hamas government."
Residents of the southern Gaza town of Rafah say they received telephone calls from the Israeli military warning them to leave their homes ahead of an impending airstrike.
Meanwhile, the Israeli Foreign Minister, Tzipi Livni, has pledged to keep hitting Hamas as long as it attacks Israel. She also ruled out negotiations with the Resistant Movement.
Click for more news in World Wide Watch>>
Editor:Zhang Pengfei