World
Palestian-Israel cease-fire at stake
Source: CCTV.com | 02-03-2009 08:47
Special Report: Israel airstrikes in Gaza

Violence continues in the Middle East, where Israel has carried out several air strikes on Gaza, while Palestinian militants fired mortar shells on southern Israel.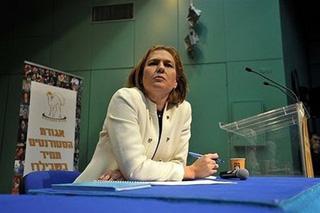 Israeli Foreign Minister and Kadima party leader Tzipi
Livni listens to a question during an election campaign
rally at the Ben Gurion University in the southern city
of Beersheva.(AFP/David Buimovitch)
The latest violence has made their tentative cease-fire even more fragile. Israeli Foreign Minister Tzipi Livni is threatening to keep striking at Hamas as long as the militant group attacks Israel.
On Monday, Israel launched new airstrikes in the southern Gaza town of Rafah, killing one Hamas militant and wounding three.
Israel says the militants had fired mortar shells at southern Israel.
A spokesman for the militant group has confirmed the dead gunman was a rocket-launching crew leader.
Under this atmosphere, Israeli candidates are gearing up their campaigns ahead of the upcoming general elections. As a candidate, Foreign Minister Tzipi Livni, says Israel cannot accept the existence of Hamas in Gaza.
Tzipi Livni, Israeli Foreign Minister, said, "We will continue to strike at Hamas. And our strategic goal cannot be to accept their existence. We will respond to every attack, every shooting at Israel, every attack on Israeli sovereignty and continue to take action if there is a need."
Livni's tough statement came as a Hamas delegation discussed terms for a long-term truce with Israel through Egyptian mediators in Cairo.
A Hamas spokesman in Gaza said on Monday that the group accepts a one-year truce with Israel, on condition that the Jewish state lifts its blockade on Gaza and reopens border crossings.
Editor:Zhang Pengfei