World
Mideast peace diplomacy continues
Source: CCTV.com | 02-03-2009 09:53
Special Report: Israel airstrikes in Gaza

Meanwhile, Palestinian President Mahmoud Abbas has met with French President Nicolas Sarkozy as part of his effort to find stronger solutions for Gaza.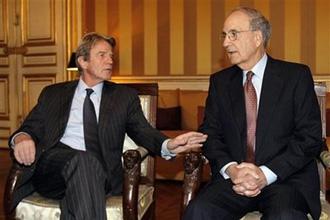 U.S. President Barack Obama's new Mideast envoy, George
Mitchell, right, meets with French Foreign Minister
Bernard Kouchner, left, at the Foreign Ministry in Paris,
Monday, Feb. 2, 2009. (AP Photo/Christophe Ena)
During the meeting, Abbas warned that the cease-fire in Gaza remains fragile with Israeli air strikes continuing. He says he backs Egypt-led efforts to restore calm to the situation.
Earlier in Paris, US Middle East envoy George Mitchell met with French Foreign Minister Bernard Kouchner to discuss a lasting peace in Gaza.
Mitchell warned of further setbacks to come in the search for peace between Israel and the Palestinians.
Editor:Zhang Pengfei