China
Building a sustainable village in Sichuan
Source: CCTV.com | 05-13-2009 13:18
Special Report: One Year after 5.12 Quake

Rebuilding after the quake has been a challenging task, especially with a new emphasis on construction that is more environmentally friendly.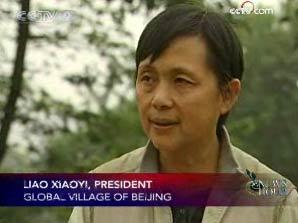 Liao Xiaoyi first came to Daping ten months ago
after theearthquake had toppled hundreds
Daping is a small village of less than 1,000 people in the northwestern mountains of Sichuan. After the earthquake, a group of environmentalists came to the village to help farmers rebuild their homes and lives.
Three hours after setting out from the provincial capital Chengdu, we finally arrived at our destination – Daping village.
Together with us is Liao Xiaoyi, a noted environmentalist in China. She first came to Daping ten months ago after the earthquake had toppled hundreds of houses.
Liao Xiaoyi decided to stay. Her goal is to reinvent the village by integrating her green dream with reconstruction.
Liao Xiaoyi, president of Global Village of Beijing, said, "As environmentalist, as NGO, we have a dream to set up a real model of eco-civilization. Rebuilding after the earthquake has provided us with an opportunity to carry out this ideal."