China
Mainland, Taiwan enchance ties
Source: CCTV.com | 04-27-2009 13:29
Special Report: 3rd round of cross-strait talk

Click for more news in News Hour>>
The Chinese mainland and Taiwan have signed three new agreements ranging from more direct flights to boosting financial cooperation. The signing ceremony was held on Sunday afternoon in Nanjing. Both sides inked the deals after talks between the two authorized non-governmental organizations on cross-strait ties --ARATS and SEF.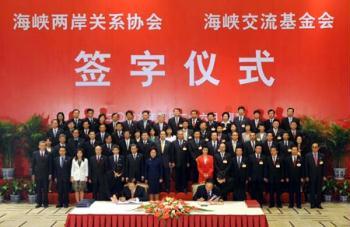 The mainland-based Association for Relations Across the
Taiwan Straits (ARATS) President Chen Yunlin (R, Front)
and the Taiwan-based Straits Exchange Foundation (SEF)
Chairman Chiang Pin-kung (L, Front) sign agreements at a
signing ceremony in Nanjing, east China's Jiangsu Province,
on April 26, 2009. The Chinese mainland and Taiwan signed
here on Sunday afternoon agreements on launching regular
flights across the Taiwan Straits, enhancing financial
cooperation, and jointly cracking down on crimes and
offering mutual judicial assistance.(Xinhua/Sun Can)
Another milestone in relations across the Taiwan Straits.
Whenever Chen Yunlin meets Chiang Pin-kung, people on the mainland and Taiwan expect new impetus for economic development and also for their personal benefit.