China
Mainland, Taiwan agree to enhance ties
Source: CCTV.com | 04-27-2009 08:57
Special Report: 3rd round of cross-strait talk

Click for more news in World Wide Watch>>
The chief negotiators are already looking at new possibilities aimed at enhancing ties between the mainland and Taiwan.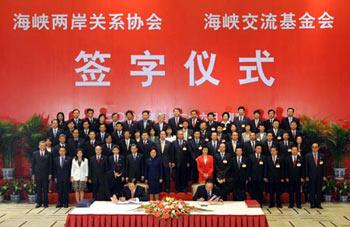 The mainland-based Association for Relations Across the
Taiwan Straits (ARATS) President Chen Yunlin (R, Front) and
the Taiwan-based Straits Exchange Foundation (SEF) Chairman
Chiang Pin-kung (L, Front) sign agreements at a signing
ceremony "in Nanjing, east China's Jiangsu Province, on
April 26, 2009.
Another milestone in relations across the Taiwan Straits. Whenever Chen Yunlin meets Chiang Pin-kung, people on the mainland and Taiwan expect new impetus for economic development and also for their personal benefit. Amid the global financial crisis, the chief mainland negotiator called on both sides to join hands to overcome the current difficulties and create a win-win situation.
The mainland announced that it would promote companies to invest in Taiwan as soon as the island authorities allow such investment. And the mainland will also increase its purchase of Taiwan products, as well as encourage more Taiwan investment in the mainland.
The mainland also acknowledged that both sides need to achieve a more institutionalized mechanism or framework for their economic cooperation. Representatives agree that their new agreements and consensus will improve the environment for investment on both sides. They add that the developments would also enhance more contacts between individuals and protect their rights, aswell as laying a solid foundation to improve the peaceful development of ties.