China
Mainland investment in Taiwan on agenda
Source: CCTV.com | 04-27-2009 09:03
Special Report: 3rd round of cross-strait talk

Click for more news in World Wide Watch>>
Up to now, cross-strait investment has only been in one direction -- from Taiwan to the mainland. Let's take a brief look at the past negotiations that led to today's agreement to change that.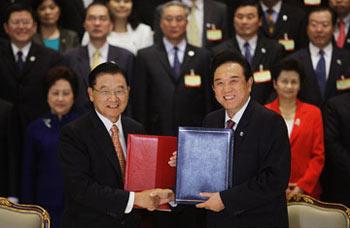 The mainland-based Association for Relations Across the
Taiwan Straits (ARATS) President Chen Yunlin (R) and the
Taiwan-based Straits Exchange Foundation (SEF) Chairman
Chiang Pin-kung attend a signing ceremony in Nanjing, east
China's Jiangsu Province, on April 26, 2009.(Xinhua/Sun Can)
By the end of last year, China's mainland had approved 77 thousand investment projects from Taiwan. Cross-straits trade topped 800 billion yuan. The Mainland was then the Taiwan's biggest investment destination. However, Taiwan's door was still closed to the Mainland investors.
Entrepreneurs from the two sides want to change that.
In December 2008, the Mainland issued a notice that permitting mainland investment in Taiwan and encouraging selected investments.
In February this year, a mainland business delegates spent six days in Taiwan. They held talks with their Taiwan counterparts in ten industries including textiles, garments and retail home appliances and reached an important consensus.
Media in Taiwan say the island authorities have drawn up a preliminary draft plan to open Taiwan for mainland investment. It will first allow industries that complement industries in Taiwan.
Editor:Zhang Ning