China
Highlights of latest cross-strait talks
Source: CCTV.com | 04-27-2009 13:29
Special Report: 3rd round of cross-strait talk

Under the fresh agreements, both the mainland and Taiwan agree to start regular cross-strait flights. The number of direct flights each week will rise from 108 to 270, in a bid to ease the current shortage. The direct air links will also include six additional destinations. They include Hefei, Harbin and Nanchang.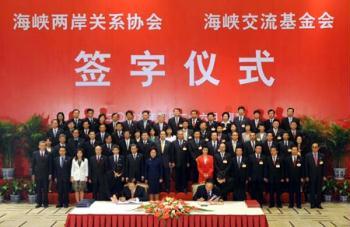 The mainland-based Association for Relations Across the
Taiwan Straits (ARATS) President Chen Yunlin (R, Front)
and the Taiwan-based Straits Exchange Foundation (SEF)
Chairman Chiang Pin-kung (L, Front) sign agreements at a
signing ceremony in Nanjing, east China's Jiangsu
Province, on April 26, 2009. The Chinese mainland
and Taiwan signed here on Sunday afternoon agreements
on launching regular flights across the Taiwan Straits,
enhancing financial cooperation, and jointly cracking
down on crimes and offering mutual judicial assistance.
(Xinhua/Sun Can)
The two sides also agreed to jointly set up a cooperation mechanism for financial supervision. Financial organizations from the mainland and Taiwan have been encouraged to set up branches on the other side of the strait. In addition, the two sides will gradually set up a currency clearing system, allowing commercial banks to offer cash exchange services.
And in the area of joint law enforcement, the mainland and Taiwan are pledging joint efforts to crack down on major crimes involving kidnapping and weapons, as well as economic crimes. The two sides are also pledging to cooperate in offering mutual judicial assistance.