China
Cross-Strait talks produce new results
Source: CCTV.com | 04-27-2009 08:40
Special Report: 3rd round of cross-strait talk

Click for more news in World Wide Watch>>
The Chinese mainland official in charge of Taiwan affairs, Wang Yi, has met with Chiang Pin-Kung and his delegation from the Taiwan-based Straits Exchange Foundation.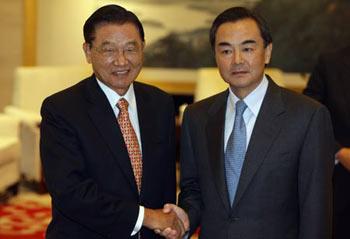 Wang Yi (R), director of the Taiwan Work Office of the
Central Committee of the Communist Party of China, meets
with Taiwan-based Straits Exchange Foundation (SEF)
ChairmanChiang Pin-kung in Nanjing, capital of east
China's Jiangsu Province, April 26, 2009.
(Xinhua/Xing Guangli)
During their talks in Nanjing on Sunday, Wang said the new agreements reached between the two sides indicate progress in cross-Strait talks and a new achievement in relations.
Wang said he hopes the mainland's Association for Relations Across the Taiwan Straits and the Straits Exchange Foundation will boost cooperation in fields such as culture, education and technology.
Wang said he also hopes the two sides will establish mutual trust, and supporting the One China policy is key to this.