China
Spectacle at sea
Source: China Daily | 04-24-2009 10:55
Special Report: Chinese navy 60th anniversary

QINGDAO -- Two nuclear-powered submarines making their public debut Thursday led a spectacular parade of a Chinese navy fleet, which also included 23 vessels, in an unprecedented demonstration of the country's maritime might.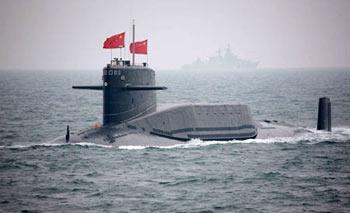 A nuclear submarine of the Chinese People's Liberation Army
(PLA) Navy is seen during a naval parade of the PLA Navy
warships and aircraft in waters off China's port city of
Qingdao, east China's Shandong Province, on April 23, 2009.
A Chinese officer introduces Chinese naval submarine to
heads of delegations of foreign navies at Qingdao port,
east China's Shandong Province, on April 22, 2009.
(Xinhua/Li Gang)
The parade, followed by an international fleet review in which 21 vessels from 14 countries participated, was the climax of a four-day celebration marking the 60th anniversary of the founding of the People's Liberation Army (PLA) Navy.
The foreign vessels, including US destroyer USS Fitzgerald and the Russian cruiser CG-011 Varyag, lined up in the order of combat ships, landing craft, auxiliary ships and a training vessel.
Two of the Chinese navy's nuclear-powered submarines of Long March 6 and Long March 3, and two conventional submarines lead the Chinese fleet during a sea parade to mark the navy's 60th anniversary, April 23, 2009. [Agencies] More parade photos
President Hu Jintao reviewed the warships from onboard the PLA Navy destroyer Shijiazhuang in waters off the mist-shrouded port city of Qingdao as 31 naval aircraft flew past overhead.