World
US journalist sentenced for spying in Iran
Source: CCTV.com | 04-19-2009 14:50
Iran has convicted an American journalist of spying for the United States, sentencing her to eight years in prison.
The case complicates the Obama administration's efforts to break a 30-year-old diplomatic deadlock with Tehran.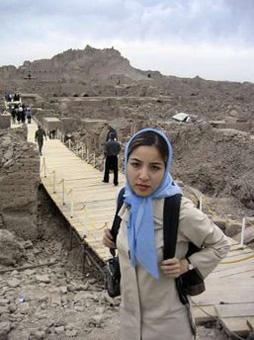 File photo of US-Iranian journalist Roxana
Saberi posing for a photograph in Bam,
southeast of Tehran March 31, 2004.
REUTERS/Stringer/Files
Roxana Saberi has been living in Iran for six years. She has also worked for some international news organizations, including the BBC and Fox News.
She was arrested in late January and initially accused of working without press credentials. But earlier in April, Iranian authorities brought espionage charges against Saberi.
They say she used journalism as a cover to pass classified information to U.S. intelligence services. The United States is rejecting the espionage charges as "baseless" and is demanding her immediate release.
Robert Gibbs, White House Spokesman, said, "The president is deeply disappointed at this news. His thoughts and prayers are with her and her family. And I think we will continue to express the concerns that we have through the Swiss to the Iranian government, and make sure they underscore and understand our deep concern for these actions."