China
Foreign media eye Tibet´s changes
Source: CCTV.com | 03-19-2009 08:24
Special Report: Tibet in 50 Years

Click for more news in World Wide Watch>>
Foreign journalists in Beijing have visited an exhibition on democratic reform in Tibet, and the region's fast development over the last 50 years. The journalists represent some 30 organizations.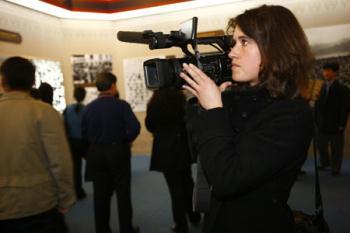 A foreign correspondent works at the "50th Anniversary of
Democratic Reforms in Tibet" Exhibition in Beijing, capital
of China, March 18, 2009. A number of foreign journalists,
organized by the Information Department of China's Foreign
Ministry, visited the exhibition on Wednesday.
(Xinhua/Li Mingfang)
Many described the exhibition at the Cultural Palace of Nationalities as "impressive" and "informative", and said it helped them gain a better understanding of Tibet.