World
Int´l donors pledge $4.5 bln for Gaza reconstruction
Source: Xinhua | 03-03-2009 07:55
Special Report: Israel airstrikes in Gaza

by Lin Liping
SHARM EL-SHEIKH, Egypt, March 2 (Xinhua) -- International donors held a conference in support of the Palestinian economy for the reconstruction of the Gaza Strip here on Monday, during which they pledged a total of 4.481 billion U.S. dollars of donation.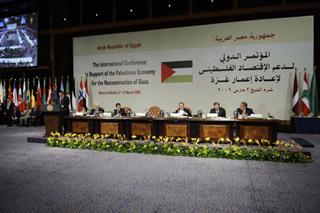 Photo taken on March 2, 2009 shows the general view
of an international donors' conference to plan th
reconstruction of the Palestinian Gaza Strip in Sharm
El-Sheikh, Egypt, on March 2, 2009. Officials and
representatives from more than 70 countries and some
15 organizations attended the conference kicked off
on Monday morning.(Xinhua/Zhang Ning)
"We gathered today 4.481 billion dollars (for rebuilding Gaza),"Egypt's Foreign Minister Ahmed Abul Gheit said in a chair's conclusion statement at a press briefing following the Gaza aid conference held in the Egyptian Red Sea resort of Sharm el-Sheikh, adding "it's beyond of our expectations."
In addition to previous pledges, Abul Gheit said, the total sum of international donations reached 5.2 billion dollars, which has exceeded the Palestinian request of amount.
The Palestinian National Authority (PNA) requested 2.8 billion dollars for Gaza reconstruction and Palestinian economic recovery, according to an official report by acting Palestinian Prime Minister Salam Fayyad.