World
Int´l community to aid Gaza reconstruction
Source: CCTV.com | 03-02-2009 10:04
Special Report: Israel airstrikes in Gaza

Top diplomats from around the world are gathering in the Egyptian resort of Sharm el-Sheik for the international donors' conference on Gaza's reconstruction.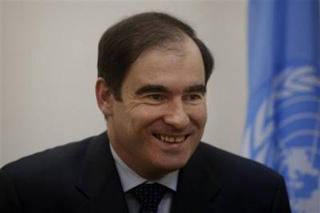 John Ging, the head of Gaza operations for the U.N.
Relief and Works Agency, UNRWA, smiles during an
interview with The Associated Press in Gaza City,
Thursday, Feb. 26, 2009. (AP Photo/Khalil Hamra)
The United Nations is urging Israel to relax its blockade to allow in reconstruction materials and ease the suffering of Gaza residents.
The Head of the UN Relief and Works Agency in Gaza stressed the urgency of ending Israel's blockade of the Gaza Strip.
John Ging, Head of UN Relief & Works Agency in Gaza, said, "Unless the crossings open, we cannot expect any improvement in the situation here."
Israel allows in basic food aid, fuel and medicine on a daily basis, but it keeps Gaza's crossings sealed to the raw materials needed for reconstruction.
Israel says it will open the crossings only after Hamas releases an Israeli soldier it has held since 2006.