World
Hamas: Truce is conditional
Source: CCTV.com | 02-02-2009 13:42
Special Report: Israel airstrikes in Gaza

A high-level delegation from the Palestinian group Hamas has arrived in Tehran. They briefed senior Iranian government officials on the 22-day Israeli military offensive on Gaza.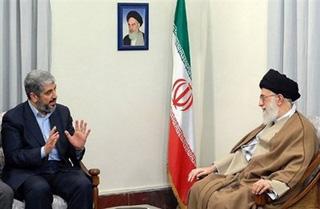 Iran's supreme leader Ayatollah Ali Khamenei (R) meets
with the political supremo of Palestinian Islamist
movement Hamas, Khaled Meshaal (L), in Tehran. (AFP)
In Ramallah, Palestinian President Mahmoud Abbas has ruled out dialogue with Hamas, unless it recognizes the supremacy of the Palestine Liberation Organization.
This has deepened the split between the two main Palestinian groups.
Meanwhile, in Gaza, a Hamas spokesman said it would only accept a truce with Israel once "all forms of aggression " have ceased and the border crossings are completely open.
Taher Nunu, Hamas Spokesman, said, "Our agreement to this truce is conditional, there are two fundamental conditions. First, stop all forms of aggression, and the second: end the siege, including the opening of all the crossings. Completely, not partially, if that is achieved we can say it is possible to reach peace."
Editor:Zhang Pengfei