China
Chinese taikonauts continue visit in Macao
Source: Xinhua | 12-10-2008 11:28
Special Report: Shenzhou-7 Manned Space Flight

The three Chinese astronauts who made the nation's historic space walk during the Shenzhou 7 mission have been visiting the Macao S.A.R. On Tuesday, they shared their heroic adventure in space with over 2,000 Macao students.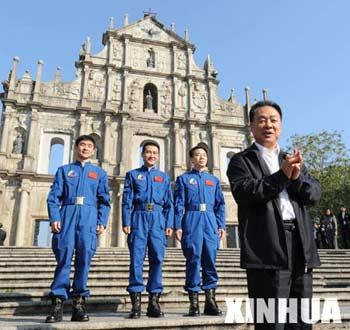 Zhang Jianqi (front), Deputy Commander-in-Chief of China's
Manned Space Engineering Program and head of the Shenzhou
VII manned space mission delegation, Chinese taikonauts
Zhai Zhigang (2nd L), Liu Boming (1st L) and Jing Haipeng
(2nd R) pose for a photo in front of the Ruins of St. Paul's
during a visit in China's Macao Special Administrative Region
on Dec. 9, 2008.(Xinhua/Huang Jingwen)
The trio of astronauts Zhai Zhigang, Liu Boming and Jing Haipeng attended the "dialogue meeting" with local students at an indoor stadium at Macao Polytechnic Institute.
The students designed and made a taiko-robot offering it to the trio as a present. They expressed their respect for the astronauts and their passion for the space mission. The students also asked for signatures from the trio of heroes.