China
Shenzhou-7 astronauts begin visit to Macao
Source: CCTV.com | 12-09-2008 14:02
Special Report:
Tech Max
Special Report: Shenzhou-7 Manned Space Flight

The Shenzhou-7 manned space mission delegation has begun a three-day visit to Macao, after spending four days in Hong Kong.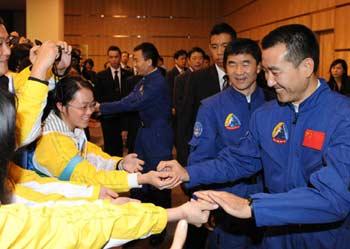 Chinese taikonaut Zhai Zhigang gives souvenir to students
during a seminar on the Shenzhou VII manned space mission
in China's Macao Special Administrative Region (SAR) Dec.
8, 2008. A delegation of the Shenzhou VII including three
taikonauts of the Shenzhou VII space mission Zhai Zhigang,
Liu Boming and Jing Haipeng kicked off a three-day visit
to Macao on monday. Xinhua Photo)
On Monday afternoon, the ferry carrying the delegation docked in Macao, where they received a warm welcome from local representatives.
Among the 40-member delegation are the three astronauts of the Shenzhou-7 space mission - Zhai Zhigang, Liu Boming and Jing Haipeng.
In the afternoon, the delegation described the Shenzhou-7 mission and attended a welcoming dinner held by the local government.
Earlier in the morning, before they headed for Macao, the delegation spoke with school children in Hong Kong.