World
87 killed in multiple terror attacks in Mumbai
There were also explosions at the Oberoi Hotel, another favorite hang-out where an unknown number of tourists are trapped.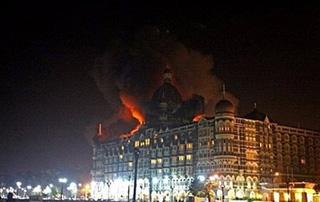 A fire breaks out of the dome of the Taj Mahal hotel
in Mumbai. Nearly 80 people have been killed in a series
of coordinated attacks across India's commercial capital
Mumbai, as gunmen armed with assault rifles and grenades
hit two luxury hotels and took foreign guests hostage.
(AFP/Pal Pillai)
Police say the coordinated attacks also targeted several other popular spots in the city including the Cafe Leopold. The most famous restaurant in Mumbai was also riddled with bullet holes.
Shivraj Patil, Indian Home Minister, said, "The terrorists attacked Taj and Oberoi and one hospital and Chatrapati Shivaji terminal, and at one or two other places also. It seems that they have kept some explosives in some vehicles and they are firing at the people who are in the hotels."
Local media are reporting that an organization calling itself the Deccan Mujahideen says it is behind the attacks. The previously little known group has sent an email to news organizations claiming responsibility.
Reports say the gunmen have been specifically targeting Britons and Americans.
A senior official in Maharashtra state says it is difficult to determine exactly how many terrorists are holed up in the two hotels.
Editor:Zhang Pengfei