World
At least 78 killed in Mumbai attacks
Source: CCTV.com | 11-27-2008 08:31
Special Report: Terror attacks in Mumbai

At least 78 people have been killed and 250 others injured in a series of attacks in India's financial capital, Mumbai. Coordinated serial explosions and indiscriminate firing rocked nine areas across the city.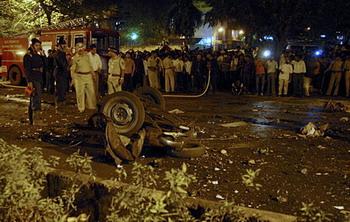 Onlookers stand at the site of a bomb blast in Mumbai
November 26, 2008. At least 80 people were killed in a
series of attacks apparently aimed at tourists in India's
financial capital Mumbai on Wednesday night, with television
channels saying Westerners were being held hostage at two
five-star hotels. At least 250 people have been wounded,
police said. [Agencies]
Police say the gunmen were specifically targeting Britons and Americans, and are holding hostages at the luxury Taj and Oberoi hotels.
The gunmen also attacked police headquarters in south Mumbai, the area where most of the attacks took place.
A crowded train station and Leopold's restaurant a well-known landmark were also targeted. Police say the militants used automatic weapons and grenades in some of the attacks.