China
Shenzhou VII´s companion satellite sent back over 1,000 pictures
Source: CCTV.com | 10-07-2008 09:13
Special Report: Shenzhou-7 Manned Space Flight

The BX One satellite released by the Shenzhou 7 spacecraft has shot over 1,000 pictures of the spacecraft from various angles.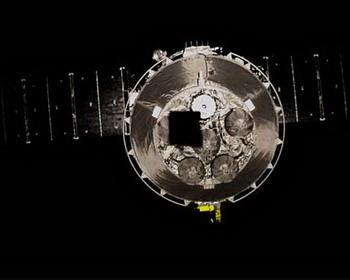 Picture released by China's manned space project on Oct. 5,
2008 shows the image of China's Shenzhou-7 spaceship, taken
by a small monitoring satellite six seconds after it was
released from the spaceship on Sept. 27, 2008. Launched
about two hours after Chinese astronaut Zhai Zhigang
finished the country's first spacewalk, the monitoring
satellite has sent back over 1,000 pictures of the spaceship.
The shadow on the spaceship was that of the monitoring
satellite. (Xinhua Photo)
The photos were stored after they were taken by cameras installed on the satellite, and have now been transmitted back to Earth. The satellite took its first photo just six seconds after being released. One of the photos was taken several meters ahead of the Shenzhou spacecraft.
This is the first time Chinese scientists have taken a photo showing an orbiting spacecraft. The BX One rode the Shenzhou 7 into space on September 25th. It was launched by the spacecraft two days later.