China
Monitoring satellite begins circling Shenzhou-7 orbital module
Source: CCTV.com | 10-06-2008 09:04
Special Report: Shenzhou-7 Manned Space Flight

A small monitoring satellite has begun circling the Shenzhou-7 orbital module. The satellite, which weighs less than 40 kilograms, was launched by the Shenzhou-7 spaceship about two hours after China's first spacewalk on September the 27th.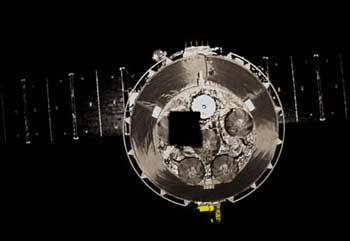 Picture released by China's manned space project on Oct. 5,
2008 shows the image of China's Shenzhou-7 spaceship, taken
by a small monitoring satellite six seconds after it was
released from the spaceship on Sept. 27, 2008. Launched about
two hours after Chinese astronaut Zhai Zhigang finished the
country's first spacewalk, the monitoring satellite has sent
back over 1,000 pictures of the spaceship. The shadow on the
spaceship was that of the monitoring satellite.(Xinhua Photo)
The satellite has sent back more than a thousand clear images of the spaceship from different angles. Experts say more experiments will be carried out on the small monitoring satellite during the flight.
In the past, China has launched more than one satellite with one carrier rocket. But this is the first time it has monitored and controlled a satellite launched from a spaceship.