China
Chinese VP stresses security, quality service in serving Beijing Olympics
Source: CCTV.com | 07-13-2008 09:12
Special Report: 2008 Beijing Olympic Games

With less than a month to go before the Olympics, Vice President Xi Jinping has inspected Beijing's transportation and service systems to ensure they're ready for the Games.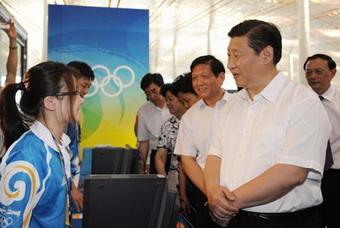 Chinese Premier Wen Jiabao speaks at the 23rd meeting of
the quake relief headquarters of China's State Council in
Beijing, capital of China, July 12, 2008.(Xinhua/Yao Dawei)
The Vice President got a taste of the city's transportation system as an ordinary passenger.
He bought tickets from an automatic machine, checked in through an automated turnstile, and boarded a subway train that took him from downtown Beijing to the capital's international airport.
The newly built route is part of the city's effort to complete a transportation system capable of handling traffic during the Olympics.
After arriving at the airport, Xi Jinping inspected facilities at the new Terminal 3, one of the biggest airport terminals in the country, and a major hub for foreign travelers.
Xi called on traffic officials and workers to keep the transportation routes both safe and running smoothly during the Games.