China
Attempt to disrupt torch relay fails
Source: CCTV.com | 04-07-2008 08:27
Special Report: 2008 Beijing Olympic Games

Special Report: 3.14 Tibet Riots

British police foiled an attempt to disrupt the Olympic torch relay in London on Sunday.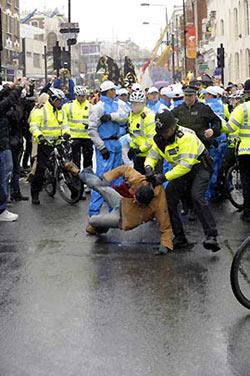 Local policeman clashes with a protester
(bottom) during the Olympic torch relay in
London, capital of Britain, April 6, 2008.
A few "pro-Tibet independence" activists
tried to sabotage the torch relay, stirring
clashes with British police. At least 25
people were arrested.(Xinhua/Qi Heng)
In the Ladbroke Grove area in London, a supporter of Tibet independence group tried to grab away the Olympic torch. He was wrestled to the ground by police. Later, another supporter attempted to use a fire extinguisher to put out the flame as it was transferred between runners. The man was dragged away to a police vehicle.
One of the relay runners was British tennis player Tim Henman. The incident did not spoil the occasion for Henman.
Tim Henman said, "I think the Olympic Games is a great way that the whole world can come together and celebrate sport. As I said there's little bit of an edge today when you see some of the protestors but I still think it's been a good day."
Many spectators voiced disapproval of attempts to disrupt the torch relay by those who claimed they had done so for "political reasons". They say sports should be separated from political things.
The torch is scheduled to travel through ten London boroughs from Wembley to Greenwich on Sunday.
Editor:Zhang Ning