Source: CCTV.com
04-04-2008 11:59
Special Report: 2008 Beijing Olympic Games

The Beijing Olympic torch relay in Istanbul concluded as the last of the 80 torchbearers arrived at Taksim Square in Istanbul's downtown. The Olympic flame arrived in Istanbul inside a specially-designed lantern carried by BOCOG executive vice-president, Jiang Xiaoyu. The flame was transferred to the torch and handed to Turkish Olympic Committee president Togay Bayatli.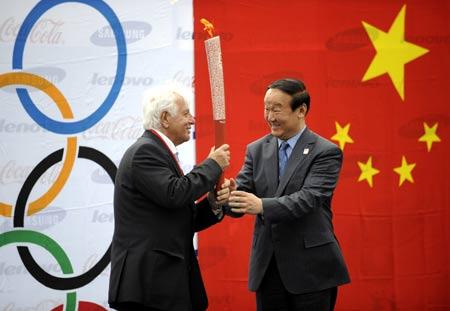 Jiang Xiaoyu (C), the executive vice president of the Beijing
Organizing Committee for the 2008 Olympic Games (BOCOG), passes
the Olymipic torch to Turkish Olympic Committee President
Togay Bayatli in Istanbul, April 3, 2008. (Xinhua Photo)
Bayatli then gave the torch to the first torchbearer Tugba Karademir, a promising Turkish figure skater. The Istanbul route was divided into three sections. The first section stretched from Hagia Sophia Square to the Ortakoy wharf in the European side of Istanbul, which is situated underneath another landmark, the Bosporus Bridge.
The second section saw six torch bearers board a ship to start a 1.2-km journey across the the Bosporus Strait to the Beylerbeyi wharf in the Asian part of Istanbul.
The most important stretch of the last section was the crossing of the Bosporus Bridge, the first suspension span in Istanbul to connect Europe with Asia. The Istanbul leg finished with the arrival at Taksim Square.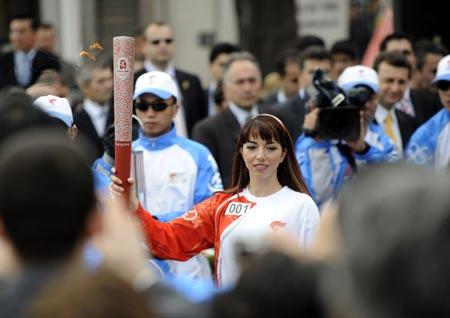 The first torch bearer Tugba Karademir, a promising Turkish
figure skater aged 23, who started her about 200-meter stretch
of the 17.8-km route, begins her running in Istanbul, April 3,
2008. (Xinhua Photo)
The Beijing Olympic flame arrived in Russia's second biggest city early Friday morning to start the third leg of an unprecedented global torch relay.