China
St. Petersburg ready for torch relay
Source: CCTV.com | 04-05-2008 12:56
Special Report: 2008 Beijing Olympic Games

Saint Petersburg is getting ready to welcome the Olympic torch today. Several top Russian athletes will carry the torch through a very festive city.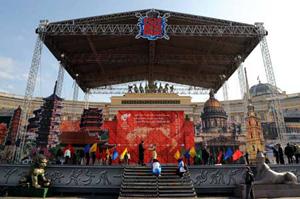 Actors rehearse for the celebration ceremony ahead
of the Olympic torch relay in St. Petersburg, Russia,
April 4, 2008. The torch relay in St. Petersburg,
the third stop of the 2008 Beijing Olympic Games
torch relay outside the Chinese mainland, will kick
off on April 5, 2008. (Xinhua Photo)
St. Petersburg's sports authorities say Saturday's Olympic torch relay will be a festival for locals.
80 torch bearers have been chosen to pass the flame around the city and spread the Olympic spirit. They have expressed their best wishes for the Beijing Olympic Games.
Nina Romashkova, Ussr's 1st Olympic Champion, said, "I'm the first Soviet Olympic Champion. I won the discus throwing gold medal in 1952 in Helsinki. That's a long time ago. I'm going to be the first torch bearer on Saturday. I wish you success. I wish the Beijing Olympic Games success."
Svetlana Khorkina, Russian Gymnastics Olympic Champion, said, "I hope the Beijing Olympic Games will be a great success. I think not only Russian athletes, but athletes all over the world are preparing for the Games with heart and soul."
The Olympic flame arrived in the city early on Friday morning. Tens of thousands of Chinese citizens living in St. Petersburg will take to the streets to cheer on the relay.
The relay's destination is Hermitage Square near the city's landmark Winter Palace, where the torch will be welcomed with a grand ceremony.
After St. Petersburg, the flame will be escorted to London, for the fourth leg of the global relay.