China
China´s parliament annual session holds closing meeting
Source: Xinhuanet | 03-16-2007 10:19
Special Report: 2007 NPC & CPPCC sessions

<!a href=# target=_blank>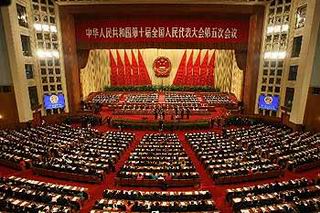 <!a href=# target=_blank>
The Fifth Session of the Tenth National People's Congress (NPC) holds its closing meeting in the Great Hall of the People in Beijing, capital of China, March 16, 2007. The Fifth Session of the Tenth NPC closed here Friday. (Xinhua/Ju Peng)
BEIJING, March 16 (Xinhua) -- BEIJING, March 16 (Xinhua) -- China's parliament, the National People's Congress (NPC), on Friday endorsed the government work report delivered by Premier Wen Jiabao that underlines the people's livelihood and sets the economic growth target at about 8 percent for this year.
Premier Wen's report was approved with 2,862 votes from the 2,889 NPC deputies present at the closing meeting of the parliament's annual session.
Wen said in the report that the most important task of the government this year is to promote sound and fast economic development, with the growth of gross domestic product (GDP) projected at 8 percent, lower than the staggering 10.7 percent in 2006, which analyst say would be conducive to healthy economic development in the country.
President Hu Jintao and other top leaders also attended the closing meeting, presided over by NPC Standing Committee Chairman Wu Bangguo.
Prior to the ratification, the State Council, or cabinet, made 33 modifications, including 12 major ones, to the report according to the opinions of parliament members and political advisors.