China
China´s lawmakers to vote on final draft of landmark property law
Source: Xinhuanet | 03-15-2007 16:17
Special Report: 2007 NPC & CPPCC sessions

<!a href=# target=_blank>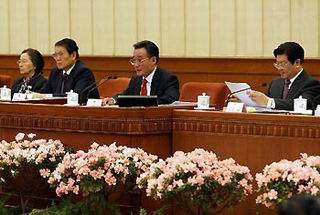 <!a href=# target=_blank>
Wu Bangguo (2nd R), chairman of the Standing Committee of the National People's Congress (NPC), presides over the third presidium meeting of the Fifth Session of the Tenth NPC in the Great Hall of the People in Beijing, capital of China, March 15, 2007. (Xinhua/Ma Zhancheng)
<!a href=# target=_blank>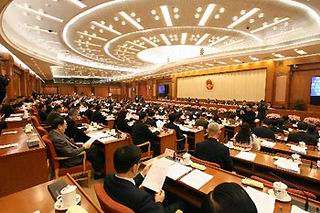 <!a href=# target=_blank>
The third presidium meeting of the Fifth Session of the Tenth National People's Congress (NPC) is held in the Great Hall of the People in Beijing, capital of China, March 15, 2007. (Xinhua/Ma Zhancheng)(Xinhua Photo)
BEIJING, March 15 (Xinhua) -- China's landmark property law, which grants equal protection to state and private properties, is getting closer to approval as a final draft of the law will be put for voting by lawmakers on Friday at the closing meeting of the parliamentary session.
The decision was made at a presidium meeting of the Fifth Session of the Tenth National People's Congress (NPC) Thursday morning.
Also to be voted is the final draft of the enterprise income tax law, which puts domestic and foreign-funded enterprises on an equal footing for income taxes.
The draft property law has been deliberated by nearly 3,000 lawmakers at the NPC annual session since March 8. The Law Committee under the NPC Standing Committee then made more than 60 revisions to the draft according to the opinions of NPC deputies and tabled the revised draft to lawmakers for further deliberation on March 13.
Yang Jingyu, chairman of the Law Committee, told the presidium meeting that the final draft of the property law has further clarified the ownership of wild animals and botanic resources and the use of land for construction in accordance with suggestions from the lawmakers.
As part of the draft civil code, the draft property law was submitted to the NPC Standing Committee for the first review in 2002 after nearly 10 years of preparations.
After an unprecedented seven times of reading, the NPC Standing Committee decided last December to put it for voting at the Fifth Session of the Tenth NPC, believing that the draft "represented a crystallization of the wisdom of the collective and was about to be mature".
Editor:Du Xiaodan