China
NPC Vice chairman Wang Zhaoguo briefs on draft Property Law
Source: CCTV.com | 03-08-2007 16:07
Special Report: 2007 NPC & CPPCC sessions

Chinese lawmakers are now holding the second plenary meeting of their annual session. Vice Chairman of NPC Standing Committee, Wang Zhaoguo, has briefed them on the draft Property Law and Minister of Finance, Jin Renqing, on the draft corporate income tax law.
<!a href=# target=_blank>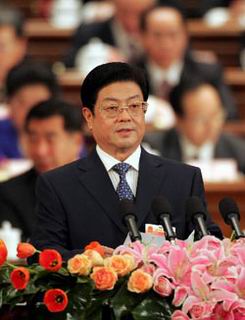 <!a href=# target=_blank>
Wang Zhaoguo said the creation of the Property Law is an important step to achieve the goal of building a comprehensive law system by 2010. He said the Property Law is also a crucial part of civil law.
The draft has undergone more reviews than any other bill by the NPC Standing Committee. The final draft has 5 chapters, 19 sections and nearly 250 items.
The Vice Chairman said the Property Law follows the principle of socialism with Chinese characteristics and "the correct political direction".
Wang Zhaoguo said, "This is a crucial law on regulating asset relations between all sectors of society. The law has been designed to protect both public and private ownership, and it will play a positive role in the development of public ownership of economy and the protection of public assets."