China
NPC plenum discusses two draft laws
Source: CCTV.com | 03-09-2007 10:48
Special Report: 2007 NPC & CPPCC sessions

<!a href=# target=_blank>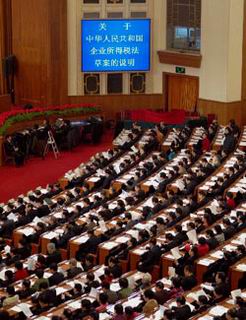 <!a href=# target=_blank>
The Fifth Session of the Tenth National People's Congress (NPC) convenes its second plenary meeting at the Great Hall of the People in Beijing, March 8, 2007. The Chinese on the screen says "the explanation on the draft enterprises income tax law of The People's Republic of China". (Xinhua/Chen Shugen)
In Beijing, the drafts of the Property and Corporate Income Tax Laws were submitted to NPC deputies for deliberation as they convened for their second plenum at the ongoing annual session of China's top legislature on Thursday.
The two draft laws aim to grant equal protection to state and private property and to introduce a unified income tax for Chinese and overseas-funded enterprises.
Reading an explanation on the Property Law to nearly 3000 lawmakers, NPC Standing Committee vice chairman Wang Zhaoguo described the legislation as an important step to achieve the goal of building a comprehensive legal system in China by 2010. He explained that the Property Law has been designed to protect both state and private ownership, and it will play a positive role in promoting the development of state ownership of property and in safeguarding the immediate interests of the people.
To ensure the law would protect both state and private interests, the draft has undergone more reviews by the NPC Standing Committee than any other bill. Wang Zhaoguo pointed out the draft Property Law has been written in line with the principles of building socialism with Chinese characteristics.
Finance Minister Jin Renqing explained to NPC deputies the draft Corporate Income Tax Law. The draft calls for a uniform rate of 25 percent, for both domestic and overseas-funded enterprises.
He said the law addresses the demands of the ever-changing socialist economic situations in the country And imposing a uniform tax rate aims to ensure fair competition in the Chinese market.
The income tax rate for Chinese companies is currently 33 percent, but with various tax breaks and incentives granted by the State and local governments, the average actual income tax rate on domestic enterprises is 25 percent, which is 10 percentage points higher than that of overseas-funded enterprises.
The draft law also calls for a new standardized preferential tax system. More preferential policies are aimed at certain industries, supplemented by tax breaks for special regions.
Editor:Du Xiaodan