China
China´s top advisory body makes preparations for closing annual session
Source: Xinhuanet | 03-15-2007 08:17
Special Report: 2007 NPC & CPPCC sessions

<!a href=# target=_blank>
<!a href=# target=_blank>
Jia Qinglin (4th L, front row), chairman of the National Committee of the Chinese People's Political Consultative Conference (CPPCC), presides over the 17th meeting of the Standing Committee of the Tenth National Committee of the CPPCC in Beijing, capital of China, March 14, 2007. (Xinhua/Ju Peng) (Xinhua Photo)
<!a href=# target=_blank>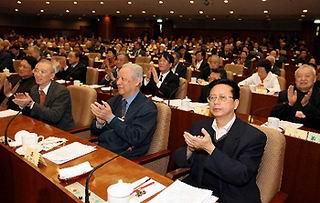 <!a href=# target=_blank>
Members of the Standing Committee of the Tenth National Committee of the Chinese People's Political Consultative Conference (CPPCC) clap hands during the 17th meeting of the Standing Committee of the Tenth National Committee of the CPPCC in Beijing, capital of China, March 14, 2007. (Xinhua/Ju Peng)(Xinhua Photo)
BEIJING, March 14 (Xinhua) -- The Tenth National Committee of the Chinese People's Political Consultative Conference (CPPCC), the top political advisory body, held the 17th meeting of its standing committee on Wednesday, making preparations for the conclusion of its annual full session.
The meeting, presided by Jia Qinglin, chairman of the CPPCC National Committee, approved a draft political resolution of the Fifth Session of the Tenth National Committee of the CPPCC, which is to be voted at the closing meeting of the current session on Thursday.
Two other draft resolutions on the work report of the standing committee of the CPPCC National Committee and on the handling of advisors' proposals will also be submitted for approval at the closing meeting .
Zheng Wantong, secretary general of the session, said during the session the CPPCC National Committee members heard and discussed the report on the government work by Premier Wen Jiabao, the reports on the work of the Supreme People's Court and the Supreme People's Procuratorate, and the draft property law and the draft enterprise income tax law.
The members believed the passage of the two laws will meet with the pressing demands of social and economic development and will be conducive to boosting the growth of domestic companies and optimizing the industry structure.
Founded in 1949, the CPPCC National Committee, with elite members of various social sectors, serves as a think tank for the government and for the country's legislative and judicial organs.
As an open forum where the ruling Communist Party, non-Communist parties of China and people with no party affiliations discuss state affairs freely and on an equal footing, the CPPCC National Committee has been the manifestation of China's socialist democracy.
Editor:Du Xiaodan