China
CPPCC chairman: China-Vietnam ties enter new era of all-round growth
Source: Xinhuanet | 03-14-2007 08:53
<!a href=# target=_blank>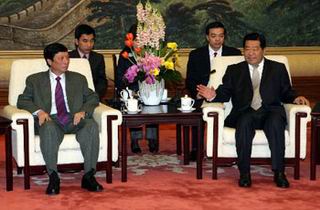 <!a href=# target=_blank>
Jia Qinglin (R1), member of the Standing Committee of the Political Bureau of the Communist Party of China Central Committee and chairman of the National Committee of the Chinese People's Political Consultative Conference (CPPCC), meets with Ho Duc Viet (L1), member of the Political Bureau and the Secretariat of the Communist Party of Vietnam (CPV) and head of the Organization Department of the CPV Central Committee, in the Great Hall of the People in Beijing, capital of China, March 13, 2007. (Xinhua Photo/Yao Dawei)
BEIJING, March 13 (Xinhua) -- The relations between China and Vietnam enter a new period of all-round development, said Jia Qinglin, chairman of the National Committee of the Chinese People's Political Consultative Conference (CPPCC) Tuesday.
"China is satisfied with the current relations with Vietnam and the Communist Party of Vietnam (CPV)," Jia told Ho Duc Viet, member of the Political Bureau of the CPV Central Committee.
He mentioned the two countries had maintained frequent exchanges of high-level visits which helped strengthen political trust and improved trade and economic cooperation.
Jia said the border issue between the two countries have also been settled gradually. He is currently participating in the annual session of the CPPCC National Committee which will conclude Thursday.
On the party-to-party relations, Jia said China and Vietnam were carefully implementing the consensus reached by leaders of the two countries during the Chinese President Hu Jintao's visit to Vietnam last November.
"I believe the good-neighborly and cooperative relations between China and Vietnam would be upgraded with joint efforts, "Jia said.
Ho, also head of the Organization Department of CPV Central Committee, arrived here on Sunday for a week-long visit to China at the invitation of the CPC.
He said the CPV would learn from the CPC on party building.
Editor:Du Xiaodan