World
IAEA: Iran to face tougher sanctions
Source: CCTV.com | 03-08-2007 15:56
Discussions continue in Vienna as members of the UN's nuclear watchdog try to work out how to respond to Iran's refusal to stop enriching uranium. Iran could face tougher sanctions, if it continues failing to meet UN demands.
The IAEA's latest meeting began on Monday. And talks since then have been dominated by concerns over Iran's continued defiance of international calls to freeze its uranium enrichment program.
A report by the IAEA Chief, Mohamed ElBaradei, confirms that Iran has put no halt on its enrichment activities.
And the meeting is likely to lead to a suspension of 22 of the 55 technical aid programs to Iran.
<!a href=# target=_blank>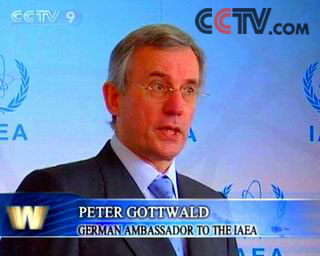 <!a href=# target=_blank>
Peter Gottwald, German ambassador to the IAEA, said, "We had to deplore the fact that Iran has not complied with the Security Council resolution and its obligation to suspend enrichment and enrichment-related activities and obviously we think that is unacceptable behavior."
But Iran has rejected UN demands, saying that measures threatened against the country are illegal and unjustified.
Ali Asghar Soltanieh, Iran's ambassador to IAEA, said, "We don't find any technical or legal grounds for it, and after all we have said that we cannot start negotiations with pre-conditions."
Meanwhile, the UN's five permanent Security Council members plus Germany are also discussing wider sanctions against Tehran. And they've already begun drafting a second resolution.
This will include a travel ban, an arms embargo, trade restrictions, and an asset freeze that will apply to more people and companies.
Editor:Du Xiaodan