World
IAEA chief urges Iran to address concerns on nuclear program
Source: CCTV.com | 03-06-2007 10:45
<!a href=# target=_blank>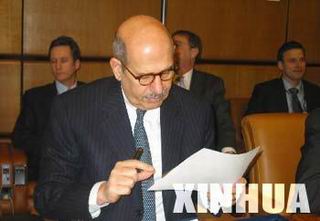 <!a href=# target=_blank>
International Atomic Energy Agency (IAEA) Director General Mohamed ElBaradei attends an IAEA board of governors meeting at Vienna's U.N. headquarters March 5, 2007.(Xinhua Photo/Song Guocheng)
In Vienna members of the UN's nuclear watchdog are discussing how to respond to Iran's refusal to stop enriching uranium.
The IAEA chief is urging Iran to address international concerns. He says that with the relationship between Tehran and the agency now at a stalemate the agency's board of governors is expected to cut technical aid to Iran.
The meeting in Vienna is likely to last four days. And members are expected to approve cutting more than half of the 55 IAEA technical aid projects to Iran to just 22.
The UN's five permanent Security Council members plus Germany are also discussing widening sanctions against Tehran. And a second resolution is already being drafted.
IAEA chief, Mohamed Elbaradei, said his agency could not guarantee that Iran's nuclear program was peaceful, and that doubts would persist until Tehran cooperates with the IAEA.
Mohamed Elbaradei, said, "We have been going through the verification process in Iran for the last four years and unless Iran takes the decision to explain to the Agency and provide answers to our concerns, we will continue to be in a position where we have to reserve judgment about the nature of that programme."
Meanwhile, Iran's ambassador to the IAEA has repeated his country's refusal to give up its right to nuclear energy. But he also says Tehran is still prepared to talk.
Ali-Asghar Soltaniyeh, Iran's ambassador to IAEA, said, "Iran will never give up its inalienable right for peaceful uses of nuclear energy enshrined in the statute of the IAEA and the NPT. But Iran is fully prepared to sit down at the negotiating table in order to remove any ambiguities of our nuclear activities."
Meanwhile on Monday, the European Union renewed pressure over the Iran nuclear issue, urging firm support for further UN sanctions against Tehran.
But the EU also says it remains open to negotiations as long as Iran complies with the UN Security Council resolution.
Editor:Du Xiaodan