China
Vice Premier Huang Ju stresses development of Shanghai in panel discussion
Source: Xinhuanet | 03-08-2007 09:37
Special Report: 2007 NPC & CPPCC sessions

<!a href=# target=_blank>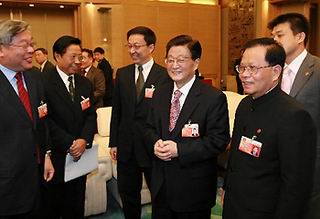 <!a href=# target=_blank>
Chinese Vice Premier Huang Ju (4th, L, front) attends the panel discussion of the deputies from east China's Shanghai Municipality to the Fifth Session of the Tenth National People's Congress in Beijing, capital of China, March 7, 2007.(Xinhua Photo)
BEIJING, March 7 (Xinhua) -- Chinese Vice Premier Huang Ju attended a panel discussion with legislators from Shanghai here Wednesday morning.
Huang, also a member of the Standing Committee of the Political Bureau of the Communist Party of China Central Committee, and the Shanghai deputies to the National People's Congress (NPC), discussed the government work report delivered by Premier Wen Jiabao on Monday.
Describing Wen's report as practical and realistic, Huang said the report has made an objective analysis of the conflicts and problems that China is currently facing, and laid out the key tasks in 2007 with strong and active measures.
Talking about Shanghai's development, Huang said the municipality is staying at a critical stage of deepening reform and accelerating development.
Shanghai must follow the guidance of the Deng Xiaoping Theory and the important thought of Three Represents, fully implement the scientific concept of development, speed up the building of harmonious socialist society, and achieve the sound and rapid economic and social growth with reform and opening-up, Huang said.
Shanghai must serve the overall situation, serve national strategy of development, and ensure that the lines and policies of the central authorities are earnestly implemented in Shanghai, he said.
He also said that Shanghai must follow the principle of putting people first and exercising governance power for the people, and pay more attention to social development and address the issues concerning people's livelihood.
Shanghai's economic and social development depends on the capability and working style of its leading officials, the vice premier said. The city must strictly implement the policies and requests of the central authorities, improve governing mechanism, block system loopholes, and strictly enforce disciplines.
He also said that Shanghai must firmly practice the principle of democratic centralism, make key decisions by means of collective leadership, improve supervision over leading officials, and root out collusion between officials and business people.
He expressed his hope that officials of Shanghai will continue to work hard to make new contributions to the country's economic development.
Editor:Du Xiaodan