China
Senior CPC leader urges crackdown on crime to ensure social harmony
Source: Xinhuanet | 03-07-2007 10:24
Special Report: 2007 NPC & CPPCC sessions

<!a href=# target=_blank>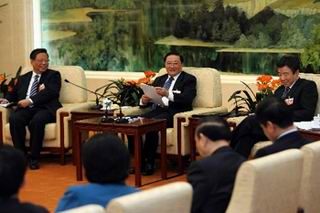 <!a href=# target=_blank>
Luo Gan (C, back), member of the Standing Committee of the Political Bureau of the Communist Party of China Central Committee, speaks during the panel discussion of the deputies from southeast China's Fujian Province to the Fifth Session of the Tenth National People's Congress (NPC) in Beijing, March 6, 2007. (Xinhua/Ma Zhancheng)
BEIJING, March 6 (Xinhua) -- A senior Communist Party of China (CPC) official on Tuesday urged strong measures to crack down on violent crimes that threaten people's life and property, so as to ensure sustained social harmony and stability.
"We should try to make the people feel a stronger sense of safety," said Luo Gan, a member of the Standing Committee of the Political Bureau of the CPC Central Committee, when joining the group discussion of lawmakers from Fujian Province.
The lawmakers are here attending the annual session of China's top legislature, the National People's Congress (NPC), which opened on Monday and is scheduled to conclude on March 16.
"We should enhance and improve the administration of social affairs while trying to explore practical ways for effective administration of the newly-emerged industries, social organizations and the Internet," Luo said.
Priority should be given to addressing the people's practical difficulties and top concerns, he said, adding, "We must ensure the fruit of China's reform and development is shared by all the people."
He expressed the hope that Fujian Province, which sees Taiwan across the Taiwan Straits, would step up construction of the economic zone on the western bank of the Straits and promote sound and rapid economic growth, so as to lay a "solid material foundation" for maintaining social harmony and stability.
In this process, efforts should be made to tackle the prominent problems emerging from economic and social development, and to settle the conflicts among the people, Luo said.
Editor:Du Xiaodan