03-06-2007 16:48
A truly harmonious society is one that strives to accommodate and balance the interests of its component social groups, especially those more vulnerable such as the migrant workers, according to Rita Fan Hsu Lai-tai, president of the Legislative Council of Hong Kong Special Administrative Region. She was speaking at a group meeting of Hong Kong delegation attending the on-going 5th session of the 10th Nation People's Congress to discuss the Work Report of the Government yesterday.
<!a href=# target=_blank>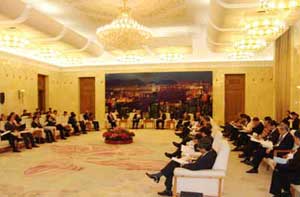 <!a href=# target=_blank>
Briefly describing the situation in Hong Kong, Fan said: "Hong Kong has a large number of migrant workers and most of them are from the mainland. These people contribute greatly to the economic development of Hong Kong."
She acknowledged that, like on the mainland, conditions for them, however, are not ideal. Fan stressed that resolving the issue is heavily dependent on the development of China's vast rural areas.
Highlighting some of the achievements listed in the Work Report, Fan said that the government's measures have much improved living standards in the rural areas.
In 2006, in order to set up a rural health service system, 2.7 billion yuan from the sale of treasury bonds was allocated by the central government for the development of medical and health care facilities at the county, township and village levels, according to the Work Report.
Furthermore, the government spent 13.6 billion yuan on minimum living allowances for urban residents, 2.4 billion yuan more than in 2005, and local governments also increased their spending on these allowances to varying degrees.
A system of minimum living allowances for rural residents was initiated in 2,133 counties, county-level cities and city districts in 25 provinces, benefiting 15.09 million residents.
Fan said: "We must prove to the people that the government really does care, and they are not just paying lip service to the concept of welfare.
"The recognition and respect are very important. We are the same. We all belong to one family," she added.
According to Fan, another issue that migrant workers want resolved is the education of their children. Common complaints about the current situation include rising costs and unequal access to education and educational facilities.
She said: "They firmly believe that education can change one's fate, which is why they are willing to do the hard slog to give their children an education."
In 2006, a total of 184 billion yuan was allocated by both central and local governments to fund rural compulsory education in the western regions. This covered the tuition and miscellaneous fees for 52 million rural students
In addition, about 37.3 million students from poor families received free textbooks, and 7.8 million students living in dormitories were given living expense allowances.
Editor:Liu Fang