China
Chinese FM: China advocates "harmonious world"
Source: CCTV.com | 03-07-2007 09:04
Special Report: 2007 NPC & CPPCC sessions

<!a href=# target=_blank>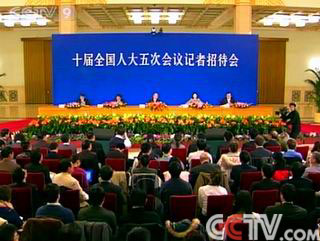 <!a href=# target=_blank>
China's Foreign Minister says the country will stick firmly to a path of peaceful development. Li Zhaoxing was speaking at a news conference in Beijing.
From Russia to Japan, from Africa to Southeast Asia, from the the Iran nuclear issue to the six-party talks the Chinese Foreign Minster is drawing the blueprint of the country's diplomatic strategy. While acknowledging it's a world of uncertainties and challenges, he said China is determined to make it better.
Li Zhaoxing, said, "Chinese President Hu Jintao and the Chinese government have advocated the building of both a harmonious society and a harmonious world. China is committed to peaceful, harmonious, scientific and sustainable development. This initiative is consistent with the trends of our times, and meets the interests and aspirations of the people."
Li echoed the Premier Wen Jiabao's government work report delivered yesterday. As one of the world's largest countries, China is ready to shoulder more responsibilities and play a great role in international affairs.