China
China sets 8% growth target for 2007
Source: Xinhuanet | 03-05-2007 14:47
Special Report: 2007 NPC & CPPCC

<!a href=# target=_blank>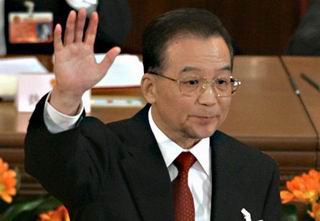 <!a href=# target=_blank>
BEIJING, March 5 (Xinhua) -- China plans to gear down its economic hike to eight percent, a level lower than the staggering 10.7-percent GDP (gross domestic product) growth rate in 2006, said Premier Wen Jiabao in a government work report on Monday.
"The most important task for us is to promote sound and fast economic growth," said the premier to 2,890 lawmakers from around the country at the opening meeting of the Fifth Session of the Tenth National People's Congress (NPC), China's top legislature.
"We need to greatly improve the quality and efficiency of economic growth," Wen said.
The economy on a fast track was not shadowed by "significant inflation" last year, noted the premier.
China's consumer price index (CPI) last year went up 1.5 percent from 2005, 0.3 percentage points down from the growth in the previous year.
In a move to boost rural development, the central government budgetary spending on agriculture, rural areas and farmers increased 42.2 billion yuan (5.3 billion U.S. dollars) in 2006, 14 percent up from 2005. Agricultural tax and taxes on agricultural products that had been collected from farmers for over 2,600 years were rescinded nationwide.
Urban per capita disposable income rose to 11,759 yuan (1,469.9 U.S. dollars), and rural per capita net income climbed to 3,587 yuan (448.4 U.S. dollars) in 2006, 10.4 percent and 7.4 percent respectively, according to the report.
China's economy has soared to be the fourth largest in the world, becoming "an influential link in the global economy", said Hou Ning, a commentator with China's leading portal website sina.com.
An example is the slump hitting China's stock market last Tuesday that triggered a domino effect on global capital markets. The shock wave was felt in Europe and North America as well.
However, the country's economic miracle is dogged by worries concerning energy use and environment, as China failed to achieve both goals of energy consumption reduction and pollution control set at the parliament's annual session last year.
Experts thus said that the 8-percent target can help ensure a smooth, sustainable growth and avoid big ups and downs.
The target was set after taking into consideration all factors, along with goals of employment and increase in consumer prices among others, according to Wen's report.
The Chinese government vows to reduce urban unemployment to below 4.6 percent by creating at least nine million new jobs, while the overall increase of consumer prices, an important Internationally-recognized index for inflation, shall be checked under 3 percent, according to the report.
NPC deputy Zhao Peng, president of the Anhui provincial branch of the Industrial and Commercial Bank of China, said the 8-percent target is "reasonable".
"Higher growth rate will lead to overheating and a lower one is less helpful in resolving social problems," he said, adding that China still has stamina in economic development.
Chen Derong, NPC deputy and mayor of Jiaxing City in east China's prosperous Zhejiang Province, said that the goal will be good for shifting the focus of local governments from blind economic competition to structural optimization of industries, improvement of efficiency and energy saving.
A report released by the World Bank on February 14 predicted a 9.6-point growth in China's economy this year. Louis Kuijs, senior economist on China and writer of the report said China has great potential improving its productivity.
Editor:Du Xiaodan