China
NPC deputies review gov´t work report
Source: CCTV.com | 03-05-2007 13:41
Special Report: 2007 NPC & CPPCC

<!a href=# target=_blank>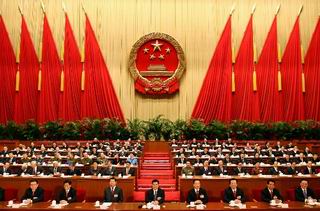 <!a href=# target=_blank>
In Beijing, where the final session of China's 10th National People's Congress has gotten underway. The highlight of Monday morning's opening session was Premier Wen Jiabao's government work report to the more than 3,000 deputies from across the country. This, as they've gathered in the capital to discuss the nation's social, political, and economic business.
Another year has passed And China's legislators are again meeting in Beijing. They're charged with representing Chinese people around the nation. And they share the belief that the past year was critical for China's development strategy.
Zhang Liansheng, NPC deputy, said, "The year 2006 was the start of the 11th five-year plan. The government has made great progress on the countryside on issues related to farmers and agriculture."
At last year's session, the Chinese government promised to make agricultural issues a priority. This year, deputies are expanding that focus.
Ye Qing, NPC deputy, said, "The year 2006 witnessed rapid economic growth. Now the government has the economic ability to comprehensively and systematically resolve the issues related to people's daily life."
Han Ping, NPC deputy, said, "What I care about, is that the government should enhance macro-control controls during this period of rapid economic growth, and ensure sustainable development regarding health care. It's very important for constructing a harmonious society."
Responding to these concerns, in his government work report Premier Wen Jiabao not only reaffirmed his commitment to China's countryside he also sought to strengthen development reforms.
Wen Jiabao singled out government attention to promoting social development as well as improving the lives of Chinese citizens, safeguarding social fairness, and ensuring that the fruits of China's development are evenly distributed.
Editor:Du Xiaodan