China
Spokesman for NPC session holds press conference
Source: CCTV.com | 03-05-2007 08:39
Special Report: 2007 NPC & CPPCC

<!a href=# target=_blank>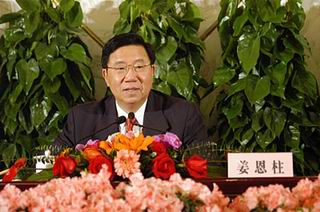 <!a href=# target=_blank>
Spokesman Jiang Enzhu speaks during the first press conference on the Fifth Session of the Tenth National People's Congress (NPC) which was held at the Great Hall of the People in Beijing March 4, 2007. (Xinhua photo/Pang Xinglei)
Journalists from China and around the world attended the first news conference of this year's session of the National People's Congress. The spokesman for the session, Jiang Enzhu outlined the agenda and explained the NPC's work.
Jiang Enzhu announced the annual session of the NPC will open Monday, and close March 16th.
The spokesman also outlined the agenda's highlights over the next few days. This year's session will deliberate on six reports, including the report on the work of the government, planning, and the budget.
Highlights of the agenda also include discussions of two important pieces of legislation: draft proposals on a Property Rights Law and Corporate Income Tax Law.
Jiang said the National People Congress attaches great importance to the deliberations over the draft property law, as it involves a number of key issues. They have so far reviewed it seven times and held more than a hundred meetings.
The spokesman also said China's defense budget for 2007 was expected to hit 350.9 billion yuan, or 44.9 billion US dollars. That's an increase of 17.8 percent over last year.
Jiang said there will be improvements to salaries and allowances for servicemen and army retirees, and more money will be spent to improve soldiers' living conditions.
Jiang noted that China's military spending remains low compared with some other countries.
Using the year 2005 as example, he said China's military expenditures stood at about 30.6 billion US dollars, less than seven percent of the military spending by the United States.
Jiang also stressed that China would stay on the road of peace and development and adhere to a defensive policy in its military build up. He said China would not pose a threat to any country.
Editor:Du Xiaodan