China
China sets major economic and social development targets for 2007
Source: CCTV.com | 03-05-2007 14:29
Special Report: 2007 NPC & CPPCC

<!a href=# target=_blank>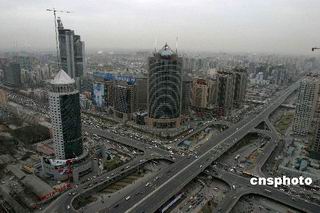 <!a href=# target=_blank>
China has taken another solid step toward the goal of building a prosperous society.
The National Development and Reform Commission made the statement in its report on the implementation of the 2006 plan for national economic and social development which was presented to the annual session of the National People's Congress.
The report says China's economy maintained fast but steady growth in 2006.
China's GDP for the year reached nearly 21 trillion yuan, or some 2.6 trillion US dollars. It's up almost 11 percent from 2005. Total government revenue for 2006 was nearly 4 trillion yuan, an increase of a little over 24 percent. Investment growth declined. Total fixed asset investment nationwide increased by 24 percent an almost 6 percent from the first half of 2006 and 2 percent from 2005.
Steady progress was made in building a new socialist countryside. Agricultural tax was scrapped, relieving the financial burden on farmers by about 125 billion yuan a year. The central government spent nearly 340 billion yuan on agriculture and rural areas. That's an increase of 42.2 billion yuan.
The government made improvements in economic restructuring. Industrial restructuring was accelerated. Total added value of large high-tech enterprises rose almost 19 percent, that's 2 percent higher than the average for all large industrial enterprises.
The central and local governments earmarked some 126 billion yuan for science and technology, that's an increase of a little over 26 percent.
The service sector enjoyed steady development and continued to grow with a total added value reaching 8 trillion yuan an increase of 10.3 percent.
New achievements were made in balancing regional development with a plan for developing the western region.
Work related to social programs and people's well-being was strengthened. Work to guarantee funding for compulsory education in rural areas got off a good start, benefiting 52 million elementary and middle school students last year. And further improvements in public health and family planning were also made.
Per capita net income of rural residents and per capita disposable income of urban residents grew by 7.4 percent and 10.4 percent respectively.
Efforts were intensified to save energy, reduce pollution and protect the environment.
Further progress was made in reform and opening up.
Efforts were made to change the pattern of growth of China's foreign trade. The country's exports and imports reached 1.76 trillion US dollars in 2006, that's up almost 24 percent percent from 2005.
The reports also points out that although progress has been made in social and economic development, China still faces many difficulties and challenges. The report sets the major economic and social development targets for 2007.
These include:
- Achieving an appropriate rate of economic growth based on economic restructuring, improved economic performance, reduced energy consumption and pollution. Government revenue for the year will total 4.4 trillion yuan, with GDP increasing by about 8 percent.
- Creating at least nine million new jobs for urban residents with urban unemployment under 4.6 percent.
- Increasing both per capita disposable income of urban residents and per capita net income of rural residents by 6 percent, and increasing retail sales of consumer goods by 12 percent.
- Achieving a rise in the consumer price index of less than 3 percent.
- Making progress in science and technology, education, health, culture and other social programs.
- Improving the balance of payments.
Editor:Du Xiaodan