China
Senior Communist leader expects advisors to be more active
Source: Xinhuanet | 03-05-2007 10:13
Special Report: 2007 NPC & CPPCC sessions

<!a href=# target=_blank>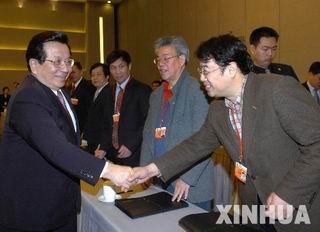 <!a href=# target=_blank>
Zeng Qinghong (L, front), member of the Standing Committee of the Political Bureau of the Communist Party of China Central Committee, meets with members of the National Committee of the Chinese People's Political Consultative Conference (CPPCC) from the non-party sector and the departments for friendship with foreign countries who attend the Fifth Session of the Tenth National Committee of the CPPCC, in Beijing, capital of China, March 4, 2007. (Xinhua/Zhu Xiang)
BEIJING, March 4 (Xinhua) -- Chinese Vice President Zeng Qinghong on Sunday urged China's political advisors to be more active in state affairs.
Zeng made the remark in a panel discussion with some members of the National Committee of the Chinese People's Political Consultative Conference (CPPCC) which is running its annual session.
Zeng said the Communist Party of China (CPC) has always attached great importance to the undertakings of the CPPCC, which is known as the country's top political advisory body or the government's think tank.
To expand the role of the CPPCC in China's political arena, the CPC Central Committee issued two documents in this regard in 2005 and 2006 respectively, said Zeng, also a member of the Standing Committee of the Political Bureau of the CPC Central Committee.
He said the two documents have broadened the channel for people of non-Communist parties to conduct political consultation, exercise democratic supervision and discuss state affairs.
Zeng urged the political advisors to actively participate in the nationwide efforts of implementing the scientific concept of development and building a harmonious society.
The 12-day Fifth Session of the Ten CPPCC National Committee opened Saturday in Beijing.
Editor:Du Xiaodan