China
Political advisers from army care about people´s livelihood
Source: Xinhuanet | 03-03-2007 15:22
Special Report: 2007 NPC & CPPCC

BEIJING, March 2 (Xinhua) -- Political advisers from the Chinese army have given lots of attention to the people's livelihood including traffic and drinking water apart from their proposals on army building.
<!a href=# target=_blank>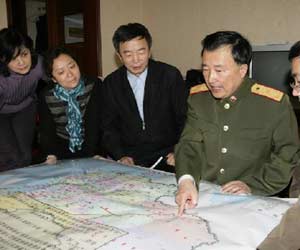 <!a href=# target=_blank>Li Guoan (R1), a member of CPPCC National Committee, introduces his proposal to reporters at Beijing Jingfeng hotel, March. 2, 2007. (Xinhua Photo)
Li Tiande, a member of the Tenth National Committee of the Chinese People's Political Consultative Conference (CPPCC), the nation's top political advisory body, said his proposal in 2006 on tackling traffic congestion in Beijing led to the set-up of over 1,000 taxi stops.
Li, a doctor with the Chinese People's Liberation Army General Hospital based in Beijing, said, "It's much easier to take a taxi now."
Li Guoan, another member of CPPCC National Committee, said his proposal on people's difficult access to drinking water in the poverty-stricken bordering areas in north China's Inner Mongolia Autonomous Region has helped the areas get 5.8 million yuan (748,000 U.S. dollars) of government subsidy.
Li Guoan, a retired deputy general of the PLA's division in Inner Mongolia, has been closely monitoring water resources and environment protection in border areas.
Together with more than 2,200 other members, Li Tiande and Li Guoan are in Beijing to attend the fifth annual full session of the Tenth National Committee of the CPPCC which will be held from March 3 to March 15.
According to military sources, political advisers from the army have submitted a total of 383 proposals since March 2003, when the first annual session of the Tenth CPPCC National Committee was held.
The advisors, who are often in-service or retired senior military officials and elite members from the army's science, education, and medical institutions, also submitted proposals and suggestions on 62 army-related issues such as safeguarding the rights and interests of servicemen.
Editor:Du Xiaodan